Just watched Gok's Fill Your House for Free and they were making pom poms with your hands.  This appealed to me so I thought would give it a try and here are the results.  So get some wool, whatever colour and size you want and start to wrap it around your hand like below, don't wrap it too tight or you might cut off your circulation.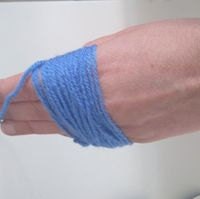 Once you have the amount you want, the more wrapping the puffier the pom pom.  You want to carefully remove so you have the following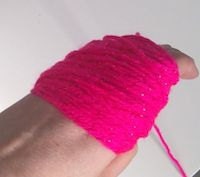 Take a length of wool and wrap it around the centre of the wool loops you have and fasten tightly so the wool stays in place.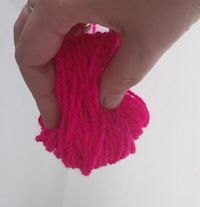 Finally start to cut into the loops at the ends to make it start to look like a pom pom


Keep going until you have cut all the loops and you will get some pom poms that look like this (I am sure your pom poms will look much more professional).  You can use for decoration, the show used them to decorate a teepee and for decorating some drawer handles Thanks Gok & Nessa.
If you really don't want to make your own you can head over to Pretty Sew Sew Box of Pom Poms and buy a box instead.